The death and the vampire
Comments
Log in with itch.io to leave a comment.
Hey so the itch.io app won't let me download the English edition. Anyone else have this same issue?
Are you trying to download it on your phone? the game is for pc only.
Yep, from my laptop. Just shows the [ESPAÑOL] option as downloadable only.
Weird, I just downloaded the English version without a problem.
Are you trying to download it from the itch website? Right? If so, there is nothing else I can do, sorry.
This is the screenshot from my laptop, direct from the itch.io desktop app.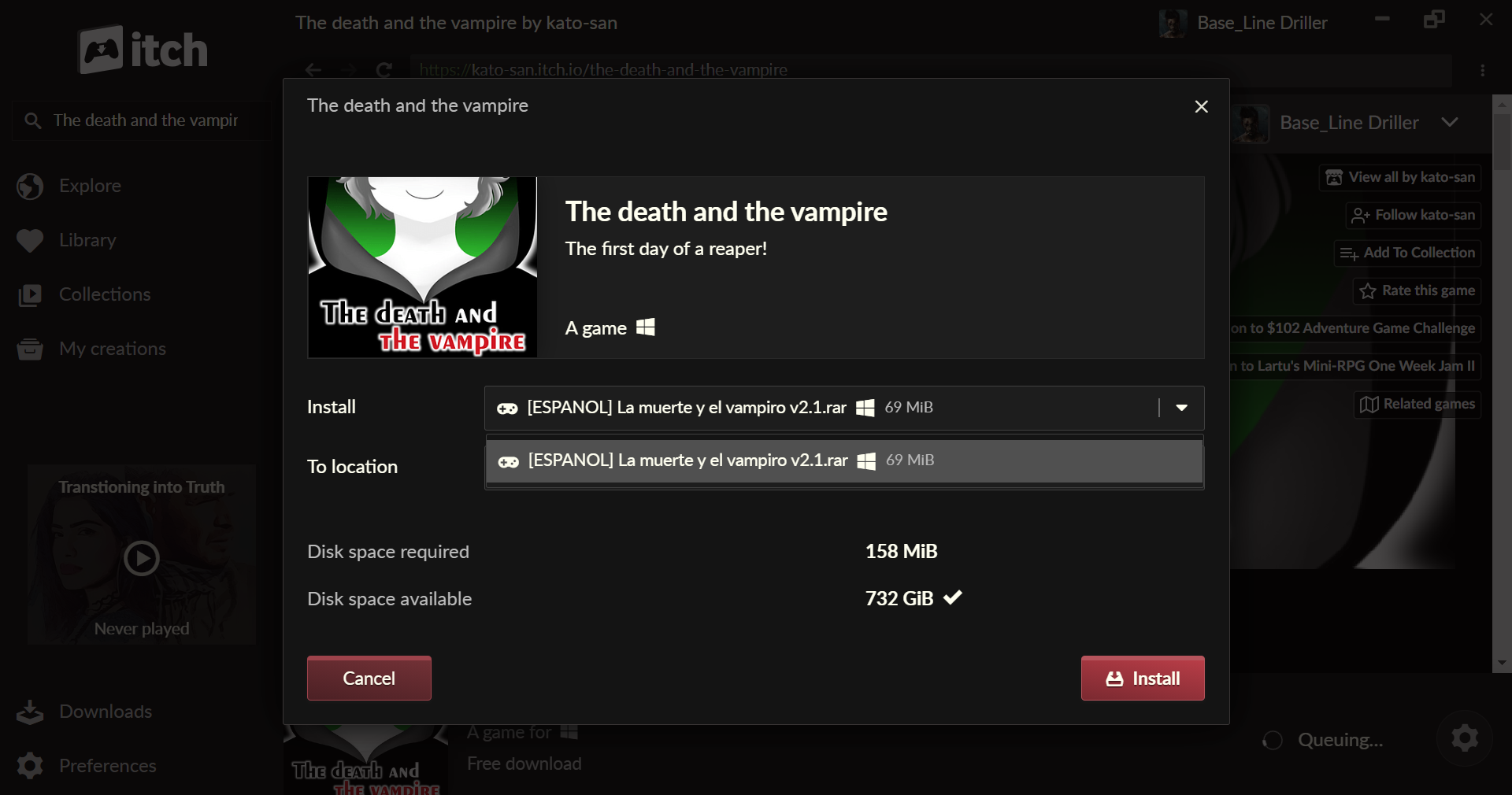 I have never used the app, I only use the website. That's why I asked you if you were using the website. I think you can download it without any problem from there.
Maybe the app only shows the most recent file, which is actually the Spanish version.
I know this game came out 2 years ago but I just played it today and I loved it so much... It's very wholesome and heartwarming. Very bittersweet. I loved all the characters.
I really enjoyed your game!
I really enjoyed this game! I liked the plot and characters! Also, the reason I was playing the older version was that the itch.io app would only let me download the old version. The game was really good! I'm glad I got to play it!
Im stuck at the draw the invert of a triangle with poison it says to use something else with the bottle of poison but I couldnt find what that other item is....can someone please help me? :)
there is a guide in the file of the game, but go to the right window of the sebastian´s house and take.
Oh...I forgot the file hahah...my fault but thank you for helping me I appreciate it. I love the art style and the story plot so far ♥
Good job kato san I love your game.

This is a really good game! I've only played part of it so far but I'm liking everything! Good job and I can't wait to finish it!
Thanks so much to play my game, I'm glad you like it! Unfortunately you are playing the old version. the new one had an extra and several errors corrected, is the one that says v2.1.